Putting Quality Engineering (QE) to work
What is it about?
In any product, the features it delivers matter a lot. But the product's performance and overall quality of experience are what keeps the user engaged.
Businesses gain competitive advantage when they can deliver high quality products while reducing the time-to-market and improving ROI. A leap from QA to QE helps you achieve this goal and in today's dynamic environment, this leap is imperative.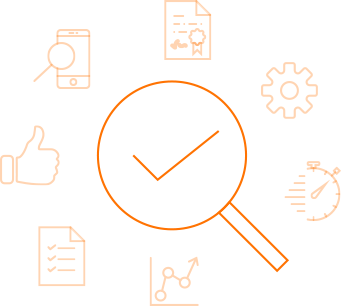 Quality Teams
Focus on quality right from ideation to commercialization.
Quality Processes
Define, support and implement process such as BDD/TDD, agile, kanban etc.
Quality Tools
Focus on making quality tools driven, enabling DevOps and building test frameworks.
What are experts suggesting?
World Quality Report 2015-16 recommends:
Refocus QA and Testing on customer experience and business assurance
Transform the traditional Test Center of Excellence (TCOE) using agile and DevOps practices to Quality Management Office (QMO)
Make continuous and automated testing a key strategy
Prioritize testing with predictive analytics and continuous feedback
Expand testing team's skills beyond manual and test automation
Why should you transform?
Delivering high-quality mobile apps in dynamic environment needs new approaches to testing because the clock speed of the dev cycle poses challenges:
Limited time to define proper test requirements
Low confidence on quality during release
No way to incorporate user feedback
Limited targets for manual testing
How will you benefit?
Low Cost
Reduce headcount and make effective use of available resources
Time-to-Market
Reduce the release time durations. Detect defects early
Automation
Cut down manual intervention as much as possible
User Satisfaction
Improve the software quality through optimization
Latest News, Events, and
Thought Leadership
Stop by our table and Enter to Win an Echo Show!
Learn More
Stop by our table and Enter to Win an Echo Show!
May 7 - 8, 2018
Hyatt Regency
San Francisco, CA
May 9, 2018
See More Events
Discover how to drastically cut release cycles, improve quality and increase efficiency.
Register Now
Diego Lo Giudice (Forrester), Wayne Ariola (Tricentis), & Sanil Pillai
Apr 23, 2018
10AM PT / 1PM ET
Online
April 24, 2018
See More Webcasts