Enterprises today have access to enormous amounts of data. It comes in both structured and unstructured forms that include systems of engagement, systems of record, and social media. At Infostretch, we've developed data engineering services that cover all the business, financial and technical drivers you need to capitalize on the wealth of data in your enterprise.
Enterprise Data Comes in
All Shapes and Sizes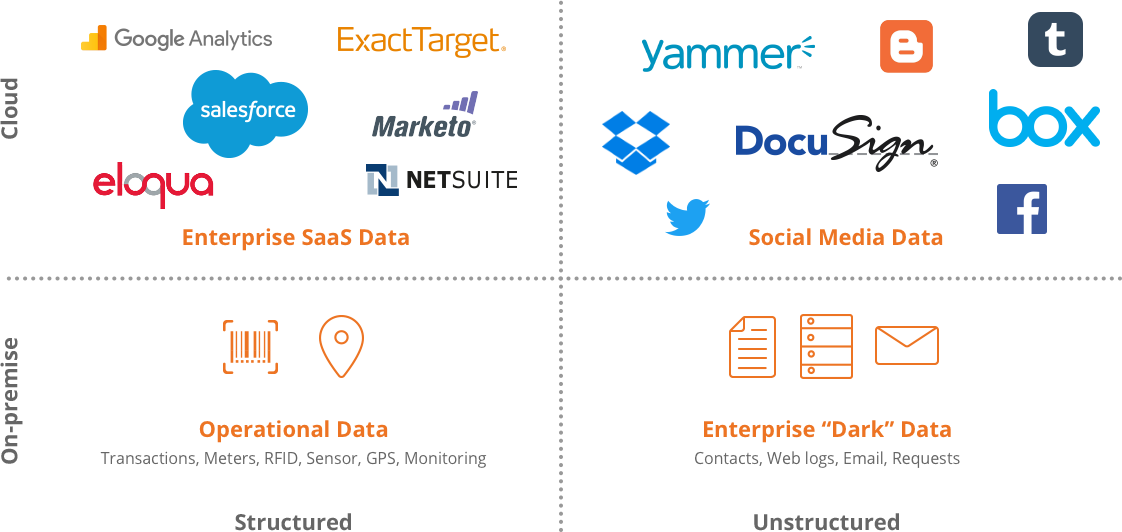 And most goes unused by the business for many reasons including:
New high volume sources
– social, public, machine
Departmental operations in the cloud
– sales, payroll, HR, marketing
Changing requirements
– new formats, analytics, data visualizations, persona-specific
Agile environments demand a different approach
Infostretch – A Comprehensive Approach to
"Agile" Analytics
Infostretch offers a holistic approach to data analytics that covers all the business, financial and technical drivers required to fully capitalize on your data resources.
Is your business getting the insights it needs from your enterprise data? Learn how it can.
A Proven Process to
Capitalize on Enterprise Data
Our approach reduces your deployment risks and accelerates time to market
Assess & Qualify
Understand nature of organization's data

Formulate big data strategies

Build the business case for Big Data in the cloud to deliver value
Design
Assess Big Data application workloads for deployment in private data center or the cloud

Define solution architecture for organization's needs
Develop & Operationalize
Develop a technical approach for deploying and managing Big Data deployment on private data center or in the cloud

Address governance, security, privacy, risk, and accountability requirements
Maintain & Support
AWS Consulting and Advanced Technology Partner
Infostretch is part of the Amazon Web Services Partner Network (APN) on both a consulting and technology basis. We are able to leverage our expertise on the AWS platform to help customers take full advantage of all its capabilities and ensure a superb experience for their end-users.
APN Consulting Partner
As an APN Consulting Partner, the Infostretch professional services team has proven its ability to help customers of all sizes design, architect, build, migrate, and manage their workloads and applications on AWS.
APN Technology Partner
The Infostretch QMetry suite is an Advanced Technology Partner that can be hosted on, or easily integrated with, the AWS platform to help manage testing processes, accelerate test automation, embrace open source, and leverage analytics for more actionable insights.
Putting Data Engineering to Work
Infostretch is putting data to work for leading organizations. Below are just three examples:
Data Aggregation Platform
Infostretch enabled this location-services provider to support a multi-tenant data aggregation platform to provide a single view for provider-specific metrics

Provides real-time data aggregation from wide variety of dynamic data sources

On-premise or cloud deployment

Platform-agnostic approach enabled deployment across different cloud vendors

Developers can develop new data collectors and seamlessly integrate through CLI

Back up message storage to provide playback capabilities

Operational data collection for reporting and fault detection
Omni-Channel Data Analytics
Infostretch assisted this payment services company by facilitating data analysis that assists its retail customers in minimizing how much they spend to acquire each new customer

Provide customer analytics for actionable business decisions. RFM Modeling (Recency, Frequency and Monetary Value) to identify loyal or at risk consumer for target marketing actions

Use data hubs for multiple merchants to mine data patterns to provide Customer Lifetime Value (CLV), analyze predictive behaviors for churn prevention and to develop the right offers for the right time
Digital Health Device Analytics
Infostretch enabled a BLE Interface from patch and wearables to mobile companion for this digital health company

Provided Mobile Companion Application for care givers and patients

Facilitated rapid development and deployment using DevOps on AWS ecosystem

Created server-less architecture using AWS lambda and API gateways

Authentication and Message encryption using AWS Cognito

Event Processing Pipeline at very high transactions rate

Micro batch analytics using Spark on EMR
Leverage the Full Potential of Agile Data Analytics
Latest News, Events, and
Thought Leadership
Stop by our table and Enter to Win an Echo Show!
Learn More
Stop by our table and Enter to Win an Echo Show!
May 7 - 8, 2018
Hyatt Regency
San Francisco, CA
May 9, 2018
See More Events
Learn how Dex Media transformed their business with automated testing.
Register Now
Gail Gallegos (Dex Media), Amir Rozenberg (Perfecto), & Kedar Apte (Infostretch)
May 15, 2018
10AM PT / 1PM ET
Online
May 16, 2018
See More Webcasts