On the fast track!
As we recollect and ponder over many of Steve Jobs' contributions and the legacies he has left behind, his famous mantra "Stay Hungry, Stay Foolish" continues to remain the cornerstone of our philosophy that inspires us to innovate and deliver superior quality products and services.
Our cutting-edge mobile testing and certification solutions have been powering a strong growth quarter over quarter. Recently, our mobile lab produced yet another innovation – QMetry ACE™ (Advanced Certification Engine), which will enable application stores and enterprises to efficiently validate mobile app quality and provide visibility to the stakeholders.
Innovation has always positioned Infostretch as thought leaders, helped us to remain on the cutting edge and rapidly expand our client base. To support this stupendous growth, Infostretch has already enhanced its east coast presence with its new office in Philadelphia, our expansion plans in Europe are right on track. These are exciting times at Infostretch and we are looking forward to build on this momentum.
In this newsletter, we'll bring to you some of the innovations from our QA and Mobile labs, our experience at Starwest QA Conference, our growth story, Diwali and Halloween celebrations and upcoming events.
Thank You!
Rutesh Shah,
CEO Infostretch
Hitting an ACE
Recently, Infostretch revealed an advanced version of its state-of-the-art mobile application store certification solution- QMetry ACE (Advanced Certification Engine). This new version of QMetry ACE will help application stores streamline the app certification process and deliver high quality applications to the end users. QMetry ACE can easily be customized as per the needs and processes of a particular application store. Several top application stores have adopted QMetry ACE into their testing and certification programs, and are already experiencing an increased ROI.
Learn More
Latest Buzz
In the Fast Lane:
Exploring New Horizons:
Venturing to the East Coast – New office in Philadelphia.
Expanding Workforce – 50 New Infoneers and Extended Office Space in Silicon Valley.
Planning Global Reach – Expanding into Europe
Growing Client-Base – Added 15 New Clients, spanning industries.
Starwest QA Conference 2011 – Hundreds of QA professionals descended on Anaheim for the 2011 Starwest Conference & Expo
Thought Leadership
Upcoming Event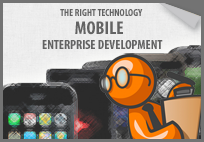 Upcoming Webinar
December 15, 2011, 9:30 AM PST
Native, Web or Hybrid/Cross platform apps- What's the right technology for Enterprise Mobile Development?