Helping accelerate testing & QA initiatives by 60-80%
Growing need for
mobile test automation
In this first decade of mobile mass adoption, many development organizations have snuck by without comprehensive approaches to quality. Today's consumers are less forgiving of clumsy mobile apps. With device proliferation, frequent OS releases and the growth of wearables, it is getting increasingly difficult to maintain software quality. Enterprises are constantly facing the pressure of accuracy, user satisfaction and faster time-to-market.
Source: Forrester
Infostretch and Perfecto by Perforce –
The partnership of choice
Together Infostretch and Perfecto by Perforce accelerate digital transformation while maximizing ROI through faster time-to-market and establishing a zero defect enterprise.
Infostretch's extensive mobile test, QA expertise and pre-built test frameworks for Perfecto by Perforce's market leading enterprise grade desktop and mobile test automation environment is helping enterprises
reduce test cycle time by as much as 60-80%
while enhancing customer engagement and loyalty.
Infostretch + Perfecto by Perforce
Key Benefits
Infostretch is a premier level services and systems integrator for Perfecto by Perforce Mobile and has developed deep expertise with the Perfecto by Perforce digital quality lab and its test automation capabilities. Leveraging its QMetry Automation Studio, Infostretch has built custom frameworks, certifications and test case libraries for Perfecto by Perforce CQL. This joint approach provides organizations with a turnkey solution to jump start their mobile and desktop test plans, reduce the time and cost of regression testing, enhance reusability and accelerate time to market.

Parallel execution between Infostretch development & Perfecto by Perforce test automation

Integrate real user environment conditions to your testing cycle

Seamless integration with CI, automation frameworks, and IDEs

One lab one script for all digital channels

Seamless integration between development and QA

Zero day support for iOS, Android, Windows Mobile, and BlackBerry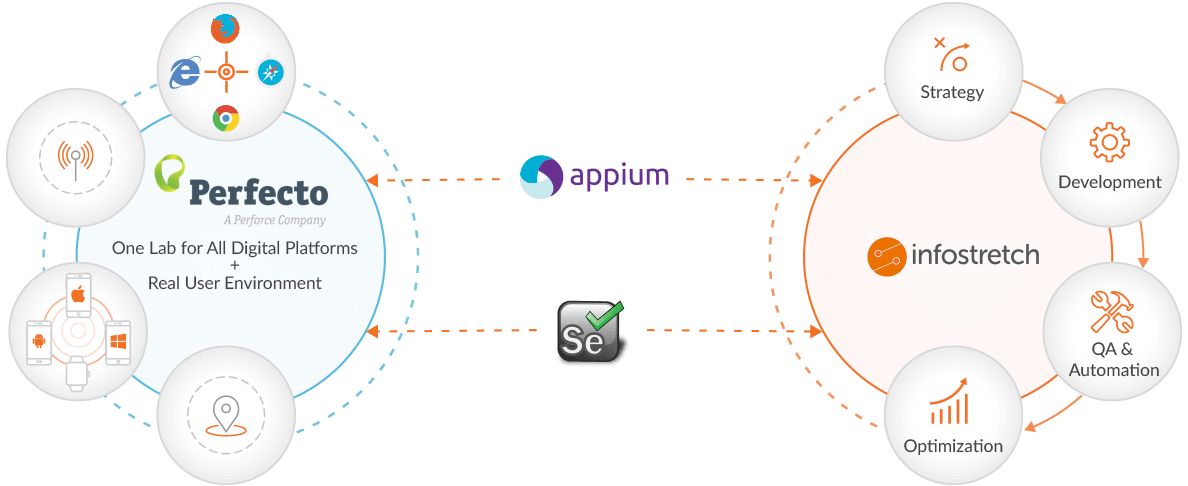 Joint Customer
Success
A Leading Hotel chain
Sequential execution to parallel execution

Reduced regression time from

10 days to 2 days

400 test cases for each OS, language and OS

Facilitated Behavior Driven Development using QMetry Automation Studio
A Large National Bank
Reduced execution time by

75%

Developed QA automation framework that was leveraged by development groups

Early test automation for Native, Hybrid/Cross Platform & Mobile Applications

Deployed on Apple, Android, Amazon, and Windows App Stores
A Large Healthcare Organization
About Infostretch
Infostretch provides comprehensive strategy, development and testing services to help enterprises get their mobile, digital and IoT initiatives to market faster, more efficiently and with greater flexibility.
The company is an expert in implementing Continuous Integration (CI) and Continuous Delivery (CD) methodologies and tools and transforming businesses from Quality Assurance (QA) to Quality Engineering (QE).
About Perfecto by Perforce
Perfecto by Perforce enables exceptional digital experiences. We help you transform your business and strengthen every digital interaction with a quality-first approach to creating web and native apps, through a cloud-based test environment called the Continuous Quality Lab. The CQ Lab is comprised of real devices and real end-user conditions, giving you the truest test environment available.
Talk to
Infostretch
We would love to hear more about your project.
Even a short phone call can help us explain how our solutions can accelerate your mobility, jump start your continuous delivery and help reduce costs. And that's just for starters, understanding more about your project will enable us to build a solution that fits your objectives, infrastructure and aspirations!
Contact us