Integrated dev/QA approach cuts cycle time by 40% for wearable
Overview
Our client is creating a new category of therapy: Digital Medicines. Digital Medicine therapy includes drugs that communicate when they've been taken, wearable sensors that capture physiologic response, applications that support patient self-care and physician decision making, and data analytics to serve the needs of doctors and health systems.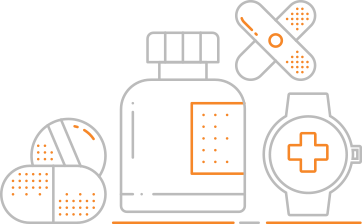 Challenges
The company's core competence was on the front end with medicine delivery and patient care. However, they had several challenges:
Regulatory compliance required to bring new healthcare products to market

Cost, time to market impact at every phase of the product lifecycle – Dev, QA, production and expansion

Short lead time for product launch in multiple geos

BLE connectivity across multiple devices
Approach
Infostretch is working with the client in every aspect of the product lifecycle
Application Development
Infostretch enabled mobile application to communicate continuously via BLE with the Patch worn by the patient.

Infostretch also supported the client on several other development projects including the middleware for the core client application – supporting both android and iOS – as well as the web front end portal for the standard patient application.
Software Verification and Validation
Performance and Scalability Testing
Systems Integration & Device Expansion
Site Reliability Monitoring
Infostretch provides remote system monitoring, regular performance reports, automatic alarms, alerts and real-time capacity sizing.
Benefits

Solved several difficult BLE connectivity challenges integral to the operation of the Digital Health Feedback System.

Enabled secure, continuous communication via BLE between the Patch and mobile device and backend systems.

Enabled simultaneous testing on various mobile and wearable devices.

Extended existing frameworks and tools to include more advanced functionalities.
Talk to
Infostretch
We would love to hear more about your project.
Even a short phone call can help us explain how our solutions can accelerate your mobility, jump start your continuous delivery and help reduce costs.
And that's just for starters, understanding more about your project will enable us to build a solution that fits your objectives, infrastructure and aspirations!
Contact us
Latest News, Events, and
Thought Leadership
Hear us Speak on "Integrating Quality into Emerging Technologies: Machine Learning"
Learn More
Sanil Pillai
Jan 18, 2018 ITU, San Jose, CA
Jan 19, 2018
See More Events
Join this webinar to learn about digital trends that emerged in 2017 that will play a key role in shaping digital success in 2018.
Register Now
Andrew Morgan
Jan 25, 2018
10AM PT / 1PM ET
January 26, 2018
See More News