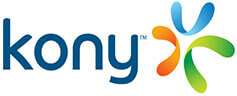 Kony is the fastest growing, cloud-based enterprise application and mobility solutions company, and a recognized industry leader among mobile application development platform (MADP) providers. Kony helps organizations of all sizes drive business ingenuity by rapidly transforming ideas into innovative and secure omni-channel applications. Built on the industry's leading digital platform, Kony provides the most innovative and secure omni-channel applications, with exceptional user experience and app design.
Kony's cross-platform, low-code solution also empowers organizations to develop and manage their own apps to better engage with their customers, partners and employees. By seamlessly leveraging and connecting apps to all types of data sources and information, Kony also enables organizations to transform their business processes and gain valuable insight.
Together, Kony and Infostretch enable enterprises to build complete mobile development ecosystems and deploy innovative new mobile strategies.
Engage Customers Anywhere, Everywhere, Anytime
Energize Existing Revenue Channels
Open Up New Geographic Markets
Enable New Business Models