Infostretch and IBM MobileFirst
Rapidly delivering native and hybrid mobile apps
IBM MobileFirst and Infostretch are working together to help enterprises incorporate mobility in their business for greater impact and success. Together, we are helping organizations plan their mobile strategies, incorporate Agile methodologies into their development efforts, driving mobile application development with support for native apps for iOS / Android, hybrid and web, streamlining test/QA cycles and monetizing their existing mobile presence. We offer expert consulting, best practices, implementation services and proven platforms and tools that can be applied across the entire mobile application lifecycle.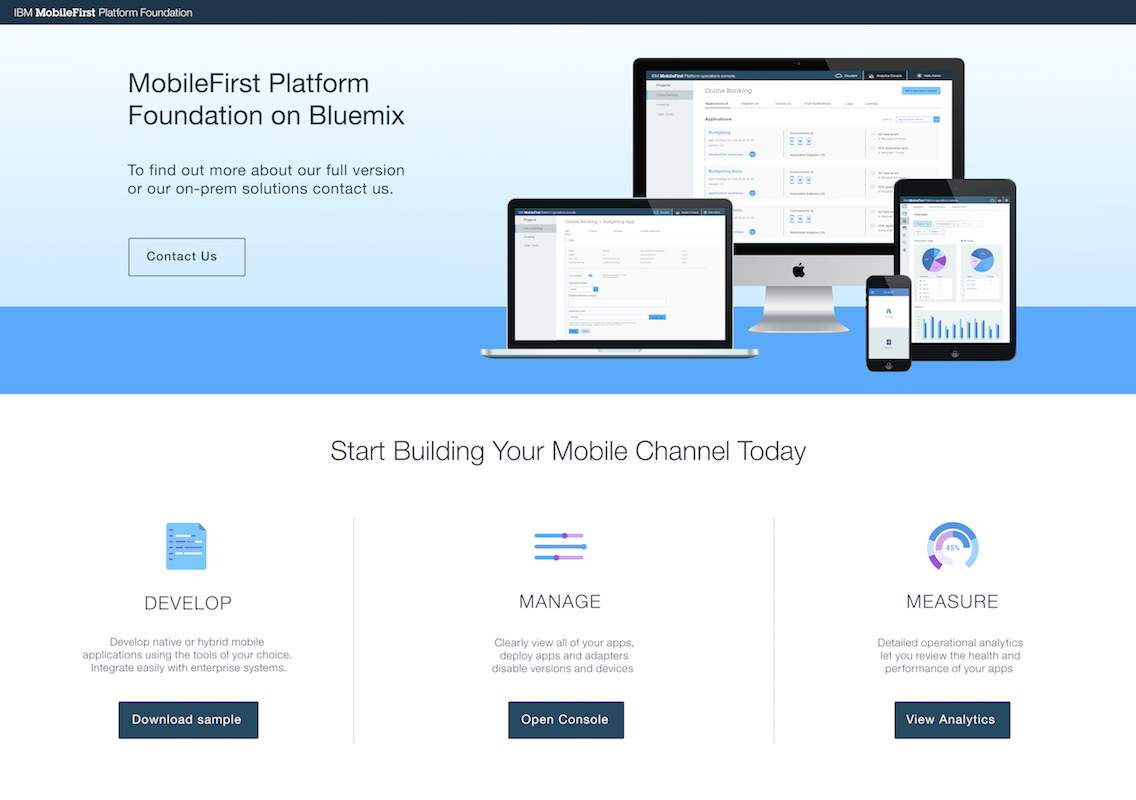 About our Partner – IBM MobileFirst
IBM MobileFirst enterprise mobility solutions deliver apps, infrastructure and engagement methods specifically designed for mobile users. All interactions can be personalized based on data, processed securely across touchpoints, and delivered in an elegant user experience.
The IBM® MobileFirst™ Platform enables enterprises to build, integrate, deploy, secure, test, manage and scale mobile applications running on different types of mobile devices. It is delivered on premise or through the IBM Bluemix™ cloud offering. The platform integrates quality and security from the start and supports all mobile development approaches including native, hybrid and other popular third party development environments.
How our Partnership Benefits You
Infostretch has developed considerable expertise on the IBM MobileFirst platform and can help users take full advantage of its in-depth capabilities to address the full lifecycle of mobile app development, delivery and on-going management. Specific areas of expertise on the platform include:
Continuous Improvement — collecting in-app usage and crash analytics; applying sentiment analysis to app store ratings and reviews; streamlining app iterations and release cycles.

Security — Analyzing app code for vulnerabilities; protecting enterprise data from exposure to mobile exploits using advanced user authentication; ensuring app authenticity; and applying local data encryption.

Contextualization & Personalization — Developing mobile apps that leverage the user's physical location to deliver relevant and personalized content. Enabling line of business users to analyze contextual data to gain actionable insights.

Data-rich apps — Accessing and managing mobile data through the IBM Cloudant® module, allowing organizations to store, sync, scale and connect to data in enterprise systems.
Infostretch and IBM MobileFirst are well positioned to assist any organization looking to take greater advantage of mobile to engage customer and employees, open up new revenue channels or increase operational efficiency.