CEO's Desk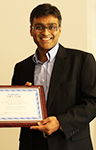 This was indeed a hot and happening quarter for us with new awards, recognitions, new innovation, new partnerships, new hiring and of course new energy. In this note, I am taking the opportunity to reflect on the achievements that we accomplished as a team in this quarter. Infostretch was recognized as a "Fast 50 Asian American Businesses" for 2013 by the US Pan Asian American Chamber of Commerce. This recognition is a great endorsement for us.
Read More
Featured Events
Infostretch Hosted a Webinar on Achieving the Right Test Coverage with IDC Analysts, Pete Marston and Melinda Ballou on Thursday, June 27th at 10am PST
– Watch the recorded webinar to get a first-hand insight on the mobile testing market and solutions from industry gurus.
Annual Company Picnic 2013
– Infostretch employees get together once a year to have the "time of their lives" at this fun-filled picnic which includes food, spirit, games and much more.
Infostretch at the 2013 StarEast Summit
– The 2013 StarEast Summit held in Orlando, Florida turned out to be a big hit for Infostretch. Our prime booth location – just near the entrance brought us many visitors, potential leads and sales at the show. We had an excellent attendance that came in just shy of 300.
Read More